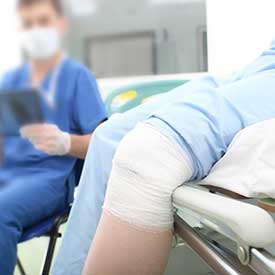 The word "Damages" is often used, and I see it on every lawyer's website. In the context of a personal injury case, what does it mean?
It depends on the situation, but an example is that you were the driver of your own car. In that situation, the damages include a number of things:
(1) The property damage to your car: Say the car can be repaired, then it's the cost of your repairs to put your car into the same condition it was prior to the accident. Your car repair cannot be determined to be a total loss until the amount of money the insurance company is required to reimburse you so that you can buy a car of the same condition your car was in before the accident. That's just one type of damages.
(2) Personal injury, which is the injuries you suffer that would be reimbursing of your medical bills, and in a lot of insurance policies people purchase medical payment coverage, also referred to MedPay. This is something insurance companies should offer, regardless of who is at fault, after you have been injured in an accident, so you should be able to get at least the minimum of the medical payment coverage.
The "personal injury" component of the policy includes your pain and suffering, the amount of money that would compensate you for your anguish, for example if you've lost vision due to an accident or lost use of your arm, and so you're in pain for a certain period of time. There is an amount of money that goes to that.
(3) Lost wages reimbursement: In addition to property damage and personal injury, say you have to miss work. Then the damages component can also be reimbursement or payment for the work that you missed.
So, "damages," in summary, may include, (depending on the accident); property damage, repairing your vehicle, medical bills, pain and suffering, and lost wages.